Today I went to a print shop in Toronto and signed and turned in paperwork for a recording contract with Brick a Records for the Soul Veggies release. It's the first record deal that I've accepted since 2008 with River City (Japan).
I never wanted to sign a deal again unless it made sense, and I think this one is right, not only for me and Storyville, but for my friends and fans. I want my music to reach all of you in a timely manner, on CD and vinyl, well packaged and promoted, and untampered and real, and that's what Brick is doing for and with us.
So MORE THAN EVER BEFORE, I need you all to support this record, because of what it means. Someone had faith in us, and we in turn had faith in them, and neither one wants to let the other down! So on Feb 17, do the right thing, and you won't be sorry! This record is THREE years in the making… It's mastered by one of the best guys in the WORLD (Chris Athens). The music is quality and the videos are stellar.
It represents growth, perseverance and strength. You will laugh, you'll bob your head, and you'll love it. We believe in them, they believe in us, and I believe in YOU. Preorder now at UGHH.com. Much love. -Ran.
PREORDER SOUL VEGGIES NOW! http://www.undergroundhiphop.com/mega-ran-storyville-soul-veggies/BRK150CD/
To celebrate the deal being done with a Boston label, we're gonna have a WEEKEND LONG PARTY in BEANTOWN!
Feb 14 SOUL VEGGIES RELEASE PARTY (EARLY SHOW) @ TT THE BEARS PLACE, 5:30 to 8:30PM
with special guests Bright Primate and The World Is Square
TICKETS: http://www.ticketweb.com/t3/sale/SaleEventDetail?dispatch=loadSelectionData&eventId=5588715
FB EVENT: https://www.facebook.com/events/488962931241603/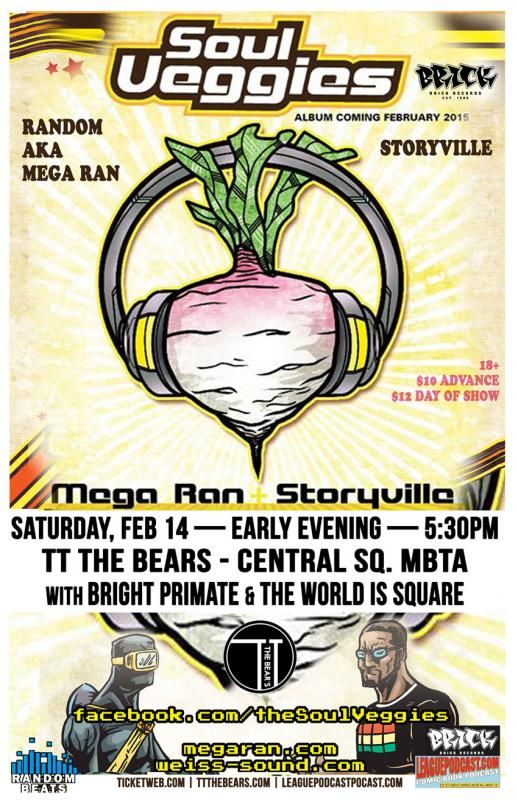 Feb 15 Game Underground Video Game and Music Festival 2 @ Laugh Boston, 8PM
with special guests Mega Ran, Brentalfloss, The Video Game Music Choir and more
TICKETS: http://laughboston.com/showListCalendar.cfm?date=02/01/2015&view=calendar
FB EVENT: https://www.facebook.com/events/1547268818892988/