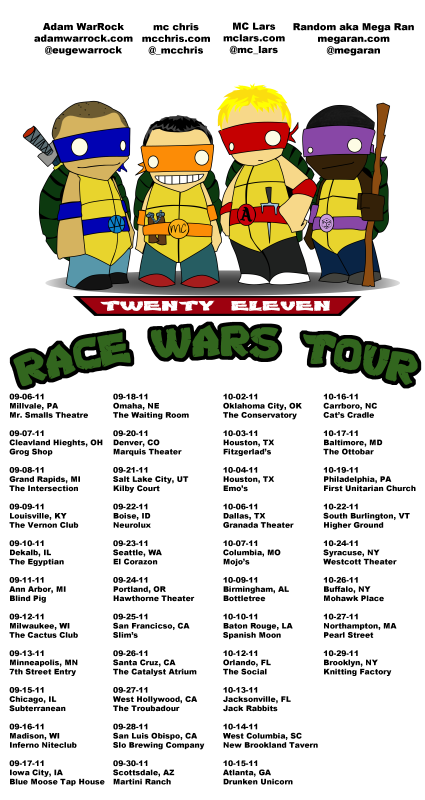 mc chris (Chris Ward) hand-picked our man Mega Ran to join a huge 40+ date US tour this fall with Adam Warrock and MC Lars.
but we need your help!
Don't know his work? You might.. Chris' song "Hoodie Ninja" is in the new Honda commercial, which has aired on TV and even at theaters before this summer's biggest blockbusters. mc also has credits on several Adult Swim cartoons, works tirelessly to fight cystic fibrosis, and is working on his own cartoon after netting over $56,000 on his kickstarter campaign.. no that's not a typo.
Meet the contestants:
MC LARS
MC Lars, real name Andrew Nielsen, (born October 6, 1982 in Berkeley, California) is an American rapper. He is the self-proclaimed originator of "post-punk laptop rap". He has recorded for Truck Records in the UK and his Laptop EP is licensed to Sidecho Records in the USA. He was formerly known as MC Lars Horris but changed his pseudonym to MC Lars in 2004 for the sake of simplicity.
RANDOM aka MEGA RAN
People will remember Mega Ran for his daring leap into video game remixing which led to a Capcom cosign, but Random's penchant for storytelling has impressed retro gamers while garnering respect from Hip-Hop's harshest critics. He developed the Mega Ran persona after rapping over an album filled with samples from the hit game Mega Man. He's continued since then, doing albums based on several other games, including 2011′s "Black Materia," which retells the story of Final Fantasy VII. The album ranked as high as top 20 on Amazon and iTunes this year and has led to coverage in Playstation Magazine, Nintendo Power, Wired and several top publications. Live shows are accented by Ran's uncanny impromptu "freestyle" ability.
Known as the Internet's foremost comic book rapper, Adam WarRock has been creating music about his favorite comics, as well as numerous other pop cultural subjects. Mixing an independent hip hop aesthetic with a love and passion for all things nerdy and geeky, he has garnered a following both online and worldwide through his tireless song production and touring. His music has been featured on PRI, NPR, WFMU, as well as sites such as SlashFilm, Newsarama, Time's Techland Blog, and WIRED.com. He is currently on a national tour with mc chris, MC Lars and Random.
check out Ran and Warrock's new track created just in time for tour!

Dates:
Tue Sept 06, 2011 Mr. Smalls Theatre Millville PA
Wed Sept 07, 2011 Grog Shop Cleveland Heights OH
Thu Sept 08, 2011 The Intersection (Front Room) Grand Rapids MI
Fri Sept 09, 2011 The Vernon Club Louisville KY
Sat Sept 10, 2011 The Middlewest Fest – the Egyptian Dekalb IL
Sun Sept 11, 2011 Blind Pig Ann Arbor MI
Mon Sept 12, 2011 The Cactus Club Milwaukee WI
Tue Sept 13, 2011 The Street Entry Minneapolis MN
Thu Sept 15, 2011 Subterranean Chicago IL
Fri Sept 16, 2011 Inferno Nightclub Madison WI
Sat Sept 17, 2011 Blue Moose Tap House Iowa City IA
Sun Sept 18, 2011 The Waiting Room Omaha NE
Tue Sept 20, 2011 Marquis Theatre Denver CO
Wed Sept 21, 2011 Kilby Court Salt Lake City UT
Thu Sept 22, 2011 Neurolux Boise ID
Fri Sept 23, 2011 El Corazon Seattle WA
Sat Sept 24, 2011 Hawthorne Theater Portland OR
Sun Sept 25, 2011 Slim's San Francisco CA
Mon Sept 26, 2011 The Catalyst Atrium Santa Cruz CA
Tue Sept 27, 2011 The Troubadour West Hollywood CA
Wed Sept 28, 2011 SLO Brewing Company San Luis Obispo CA
Thu Sept 29, 2011 The Ruby Room San Diego CA
Fri Sept 30, 2011 Martini Ranch Scottsdale AZ
Sun Oct 02, 2011 The Convervatory Oklahoma City OK
Mon Oct 03, 2011 Fitzgerald's Houston TX
Tue Oct 04, 2011 Emo's Alternative Lodging (Indoor) Austin TX
Thu Oct 06, 2011 Granada Lawrence KS
Fri Oct 07, 2011 Mojo's Columbia MO
Sat Oct 08, 2011 Juanita's Little Rock AR
Sun Oct 09, 2011 BottleTree Birmingham AL
Mon Oct 10, 2011 Spanish Moon Baton Rouge LA
Wed Oct 12, 2011 The Social Orlando FL
Thu Oct 13, 2011 Jack Rabbits Jacksonville FL
Fri Oct 14, 2011 New Brookland Tavern West Columbia SC
Sat Oct 15, 2011 The Drunken Unicorn Atlanta GA
Sun Oct 16, 2011 Cat's Cradle Carrboro NC
Mon Oct 17, 2011 The Ottobar Baltimore MD
Wed Oct 19, 2011 First Unitarian Church Philadelphia PA
Fri Oct 21, 2011 The Asylum Portland ME
Sat Oct 22, 2011 Higher Ground South Burlington VT
Mon Oct 24, 2011 Wescott Theater Syracuse NY
Wed Oct 26, 2011 Mohawk Place Buffalo NY
Thu Oct 27, 2011 Pearl Street Northampton MA
Sat Oct 29, 2011 The Knitting Factory Brooklyn NY
See you this fall!
but we need help! please contribute with this link to help us to make every date!

Interviews? Pre-Shows? hit up the contact link and we'll do our best to fill every request.